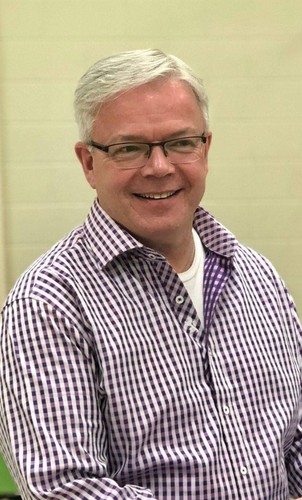 Rev. Kerry Stover's faith journey in the United Church of Canada began with baptism at Grace United Church in St. Thomas, Ontario where he attended until the family moved to Scarborough. His father's work took the family to the United States in the 60's.
After completing his Industrial Engineering Technology degree in New Jersey, he returned to St. Thomas, Ontario and worked as a quality engineer at a local manufacturing company. He was hired by Siemens Automotive, in London, in the late 80's. He was promoted to management and became the Sr. Manager of Information Technology for the Siemens automotive related divisions in Canada. Kerry completed his secular career in May 2015 at London Health Sciences Centre, Information Technology Services as a Senior Business Systems Analyst for the Human Resources and Finance departments.
During his formative years in the United States, Kerry and his family attended the United Church of Christ in Phillipsburg, New Jersey and he sang in the youth choir. While attending university he joined a United Church of Christ congregation in East Brunswick, New Jersey where he continued his love of choral singing.
Upon returning to Canada he moved to London and has since been a member at First-St. Andrews United Church (FSA). He joined the choir at FSA and has been actively involved in congregational work over the years: Social Action, Worship, Music, Property, Finance, church council and the many Broadway productions that FSA has produced. He chaired the committee that oversaw FSA becoming AFFIRM United, a first for the former Middlesex Presbytery of the former London Conference.
He has volunteered, over the years, for the Children's Aid Society (1986-1990), Ark Aid Christmas Day dinner (1990-1996), FSA Hospitality Meal (1997-2001), Bridges out of Poverty (2013-2015), Hospice of London (1997-2000), Aids Committee of London (Regional HIV/AIDS Connection) (1985-2002) and London's Musical Theatre Productions (8 years as the Board Chair) (2001-2010). He enjoyed singing with the Broadway Singers, FSA choir and the Pride Men's Chorus London.
Kerry completed the UCC Licensed Lay Worship Leader training at the Five Oaks Centre in June 2014. In November 2014 he was offered the position of Minister of Visitation at Siloam UC and left that in September 2018 to complete his Supervised Education Experience (SME) at Kincardine United. His time at Kincardine offered him the opportunity of team ministry and working with a vibrant youth group.
He completed the first two years of his Master of Divinity at Huron University College in London, where he was a member of the Bishop Hallam Theological Society as Treasurer. He was awarded two scholarships while at HUC: Youth Ministry and Christian Leadership. He transferred to Emmanuel College at the University of Toronto to complete his M.Div. and the UCC Testamur. He graduated from Emmanuel in May 2018 and was ordained on May 25, 2019 by the Antler River Watershed Regional Council.
Kerry is honoured to be called to serve the congregation of Kingsway Lambton United Church. As Associate Minister, his primary responsibilities encompass the Fresh Start ministry including planning and executing special community events as well as overseeing the Youth and Sunday School programs. Through these two major programs, he hopes to bring more congregational focus to Social Justice and Human Rights issues.
In his spare time Kerry enjoys walking his dog, live theatre, time with family and friends, mystery novels, wine tastings, golf (although he is not very good) and flat-water canoeing.