We are the children of our church community. We learn about our church, faith, and the importance of Jesus' love and we grow in the knowledge that all children are important and valued.
Victoria Efting has returned as the Sunday School Teacher and Youth Coach for the 2023-2024 year. Victoria has been connected to Kingsway-Lambton since childhood and is very happy to be serving the congregation again. She moved to the GTA in 2020 and is currently working on completing her bachelor's degree in Law & Business. She is thrilled to be helping guide the children & youth towards a deeper understanding of their faith, helping them navigate life's challenges with grace, and watching them grow into wonderful members of the Kingsway-Lambton community.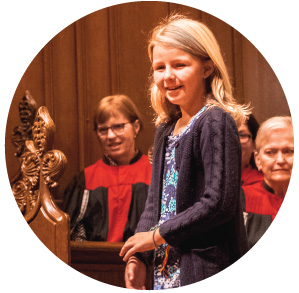 Family Worship Time
Children and youth come into the worship service with their family and spend the first 20 minutes of the 10:00 am Sunday service in the sanctuary so the entire congregation may worship as "one family in Jesus Christ."
The Sunday School Program
From September to June, the children of our church community continue their Sunday worship experience by delving into the same Bible story that is discussed during Family Worship Time. In using the "Spark Lectionary" curriculum, the children are given the opportunity to connect their learning in Sunday School with what the parents hear in the Sunday sermon. In Church School, the children are given the opportunity to explore their Bibles, enjoy fun activities, pray, and grow in faith while experiencing God in a real way.
Age Groupings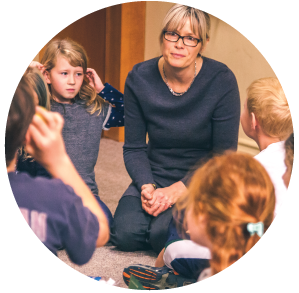 The children are divided into 3 groups:
Lower Elementary - Kindergarten to Grade 3
Upper Elementary - Grades 4 to 6
Youth - Grades 7 and up
Sunday School is a great way to keep young families connected to a supportive church community.