The Kingsway-Lambton men support each other and contribute to the life and work of the congregation and community. There are both monthly and annual events that Kingsway-Lambton's men are involved with.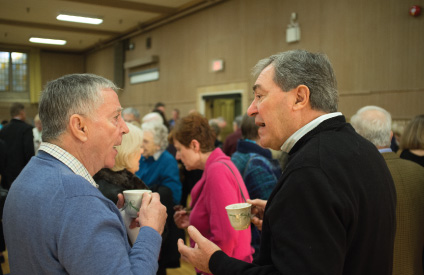 Monthly Dinners
Most months, we gather over dinner to discuss a unique and engaging topic. This forum provides an opportunity for the men of our congregation to socialize and stretch our minds as we debate topical issues and contribute to our community. All men are welcome! Watch for details on this website under Events.
The men also organize several important annual events for the congregation:
Pancake Supper
A Pancake Supper is held in February each year on Shrove Tuesday, preceding Ash Wednesday, the first day of Lent. We welcome the families of our congregration and the surrounding community into our church to share a meal of whole wheat pancakes, real maple syrup, sausages, fruit, dessert and coffee or tea.
Fall Barbeque
Each September, the men get together for a barbeque at the home of the Coordinating Minister. It's a time to get together and kick-off the busy fall season.
The Grey Cup of Chili
On Grey Cup Sunday each year, the men prepare an amazing lunch for the entire congregation following the morning service.
St. Nicholas Soiree
Each December, a congregational social dinner is organized by the men. It's a fun evening filled with food, laughter and music which gets everyone ready for the Christmas season.