Thank you for your support of Kingsway-Lambton United Church. Below are three options for ways to make your gift to the church. We appreciate your support of our mission to extend the outreach of Christ's abounding life and love.
1. By E-Transfer
Using your online banking account, send an e-Transfer to the email address: finance@kingswaylambton.ca. Include as much information as you can in the message section including your name, mailing address, the recipient of the donation i.e. General Funds, UC Missions, Music Fund, Honduras Mission etc.
There is no need for a security question. (Please include your mailing address to receive a tax receipt)
2. By credit card. Please use the button below.
3. By Cheque. Please mail your cheque to Kingsway-Lambton United Church, Attn. Ed Mock, 85 The Kingsway, Etobicoke, ON M8X 2T6
Please put your cheque (no cash) in your regular offering envelope (if you have them), fill-in the information on the front and then put the offering envelope in a regular envelope for mailing. If you do not have offering envelopes then please include with the cheque your full name, address and any details regarding how you would like it designated.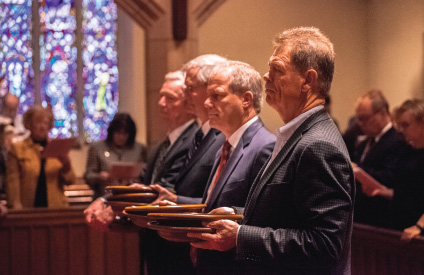 Donations can also be made by cash contributions weekly during the service (not currently available). Special envelopes are available through the church office for each calendar year for cash or cheque donations.
Increasingly, contributions are being made via Pre-Authorized Remittance (PAR) directly from your bank account, even those weeks when you are not able to attend church. Small PAR cards are available at the back of the Sanctuary, if you wish to place one on the offering plate as a reflection of your gift. To enroll in PAR, complete the form attached here and forward it to the church office.
A Special One-Time Gift
Special one-time gifts to Kingsway-Lambton are aways appreciated. Some people are moved by a special church service or a particular sermon resonated with them. Others may wish to make a memorial donation in memory of a loved one or friend. Still others donate to special funds, such as the United Church of Canada's Mission and Service Fund or the Music Fund. An on-line contribution is a convenient way to make your donation.