Our Sunday services at Kingsway Lambton benefit enormously from our very talented soloists. We are grateful for each stunning voice, and for the many talents of Ian Grundy, Director of Music Ministry, who makes it all happen every week.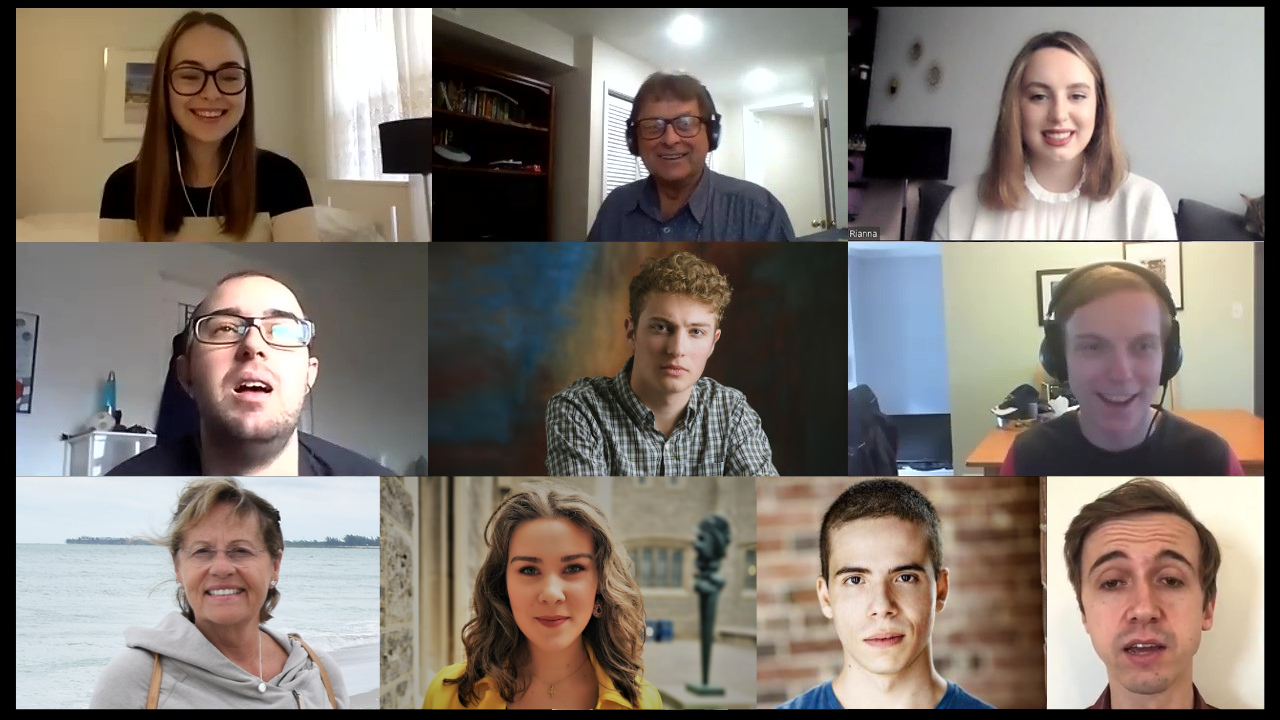 Top Row left to right: Emily Parker (soprano), Ian Grundy Director of Music Ministry, Rianna Robinson (alto)

Middle Row: Lucas Kuipers (tenor), Dante Mullin Santone (bass), Nathan Gritter (tenor)

Bottom Row: Kate Tapp Mock (soprano), Anika-France Forget (alto), Matthew Tissi (bass), Scott Downing (bass)

IAN GRUNDY, DIRECTOR OF MUSIC, conductor, organist, and harpsichordist received his early musical education at the Royal Conservatory of Music in Toronto and the Faculty of Music, University of Toronto. A student of Canada's pre‐eminent organ pedagogue Douglas Bodle from the age of twelve, he was appointed Organ Scholar of Trinity College Chapel in the mid-'70s. He has been a finalist in the Royal Canadian College of Organists Organ Competition, recipient of the Peter Screaton Skinner Prize for organ playing, the Canadian Music Talent Foundation Scholarship and the William Erving Fairclough Scholarship. In 1988 he was the winner of the prestigious Heinz Unger Conducting Competition.

Ian has had a distinguished career as a choral conductor and organist. For five years, he was the conductor of the Niagara Symphony Chorus and has held positions as Director of Music at leading Toronto churches. He continues to maintain a busy schedule as a music educator, recitalist, accompanist, and conductor. Mr. Grundy was the founding conductor of VocalPoint Chamber Choir, three‐time national finalists in the CBC Competition for Amateur Choirs. Currently, Ian is the Director of Music at Kingsway-Lambton Church, Toronto, and Artistic Director of Music Mondays Concert Series.

When not involved in music, Ian loves to sail his Island Packet 35 (on which he took a year-off and sailed south with his family in 2006) and ski with his son Matthew and daughter Katie who used to ski race at the Ontario FIS level while Ian worked as a racecourse official.

BASS LEADS

MATTHEW TISSI, Toronto, knew as a youngster he was destined for the stage. At twelve, he began his professional career in the Mirvish production of Rogers and Hammerstein's The Sound of Music. He now has more than thirteen years working in television as an actor and singer. He is proud to be a working television actor and a current member of both ACTRA and Equity. Matthew is considered a compelling storyteller and has performed with the Canadian Opera Company, the Canadian Children's Opera Company, the Toronto Symphony and Mirvish productions. The choir is fortunate to have his deep baritone voice supporting so many of the recordings made for Kingsway Lambton United Church Worships at Home recordings. Matthew holds both bachelor's and master's degrees in Vocal Performance from the University of Toronto.

DANTE MULLIN-SANTONE's interest in music and performance was nurtured in his teens by a variety of opportunities to sing and perform. He spent several summers attending the Ontario Youth Choir. Before that, he spent every summer performing in musical theatre productions in his hometown of Sudbury, ON, with YES Theatre's Summer Festival. He also has appeared in many roles around Sudbury, including Frank in Never Swim Alone (Sudbury Secondary School), Jayden in #TheWaterTower (Sudbury Theatre Center), and Danny Zuko in Grease (Theatre Cambrian). These experiences have provided an extensive background in Theatre, Jazz, Blues, Country, and Art Music. Dante Mullin-Santone is set to become a portrait of the modern signer, reflecting versatility as a virtue. He is enrolled at the University of Toronto undertaking the third year of his Bachelor of Music in Voice Performance. He is now with the MacMillan Singers, known for its high quality and challenging repertoire and the Orpheus Choir of Toronto. He is also involved with several young New Music groups, such as the Green Room Sound Collective and Concreamus Chamber Choir. Hailing from a tradition of French-Canadian country musicians within his family, Dante is a talented guitarist in his own right with a propensity for playing the Blues.

TENOR LEADS

LUCAS KUIPERS calls Ronconcesvalles home. Since graduating from Wilfred Laurier University in music, he has been busy with new opera, notably with the Summer Halifax Opera Festivals. Lucas has continued his studies privately and now online with Marianne Bindig. The pandemic has closed many singing possibilities but opened others. He has recorded a few compositions for Inside Voice Collective, a forum for composers and performers to collaborate during the pandemic. So far, he has performed Colin Eatock's Psalm 23, a sacred choral piece from his Three Psalms. Next, he will be performing December Snow, a choral work by Zachary Power based on poetry by Sir Arthur Conan Doyle, and Through the Storm, a piece for tenor and piano by Gibson MacMillan based on sacred poetry by William Cowper. At some point, once the pandemic is over, he will be singing the role of Tinca from Il tabarro with Opera by Request, premiering a new composition by Ron Beckett with the Arcady Emerging Artist ensemble. During the pandemic, he has been contributing to his community by providing an alternative to food delivery on his bicycle via localeats.to, an ethical alternative to food delivery apps.

NATHAN GRITTER is a recent graduate in Music at the University of Toronto. He began singing in choirs at thirteen but began lessons just a year before he auditioned for his music degree. Music and singing have always made Nathan relaxed and invigorated. He enjoys performing as an ensemble rather than a featured soloist. Nathan is currently singing with the Exultate Chamber Singers, University of Toronto Macmillan Singers and recently with Resound choir in Oshawa. He is an associate conductor with the Mississauga Summer Chorale and an apprentice conductor with the Resonance Youth Choir. With graduation looming in 2021, he plans to take a year off academics to prepare applications for a Master of Choral Conducting degree at schools in Canada or abroad.

SOPRANO LEADS

EMILY PARKER Even as a baby, Emily showed she was destined for music; imitating doorbells and car horns, she would sing the sounds she heard around her. When Emily grew old enough, she began piano lessons. As the daughter of a piano teacher, this was non-negotiable, but luckily for her she enjoyed them. She also joined the Toronto Children's Chorus (TCC), after attending a concert that kept her wide-eyed and on the edge of her seat. The TCC sparked Emily's passion for choir, which has led her to where she is today. As a recent graduate of U of T's Faculty of Music, Emily is now freelancing as a singer, conductor, and music teacher. In addition to her gratifying work at KLUC, Emily is an associate conductor of the Mississauga Summer Chorale. This year she is excited to be directing its new soprano-alto choir. She is also involved in an initiative to simultaneously teach music, and Western culture and language, to students in China, over a virtual platform. Having been raised by a father with a disability who was a determined advocate, Emily feels strongly about achieving equality for individuals with disabilities, and has begun planning an inclusive music project focusing on accessibility. She is also eager to continue to develop her singing voice in private lessons. Emily aims to pursue a Masters degree in choral conducting after gaining experience in the workforce. She hopes to make a significant contribution to the choral scene, and is grateful that she is able to create a profession out of her lifelong love for music.

KATE TAPP MOCK was born and raised in Burlington, Ontario and always loved to sing. She started lessons at age ten and during her youth travelled and sang with her father, well known entertainer Gordie Tapp. Kate graduated from the University of Western Ontario with a Bachelor of Music in vocal performance. She went on to post-graduate studies at the Guildhall School of Music and Drama in London, England.When Kate returned from England, she married Ed Mock, and while raising her family, she joined the Toronto Mendelssohn Choir. For twenty years, she had many wonderful musical experiences, including tours of Europe and Canada. In 1978 Kate become a member of ACTRA (Association of Canadian Television and Radio Artists). Through that association, she had vocal performances in opera, musical theatre, TV commercials, CBC Radio and movies, including background chorus for films by HBO, ABC, Universal Pictures, and IMAX. Kate joined the Elmer Iseler Singers in 1996 and for fourteen years toured North America from Yellowknife to Miami. Recently, Kate has retired from her position as the Soprano Section Lead with the Amadeus Choir of Greater Toronto which she held for twenty years. Kate's involvement with these groups included performances on over twenty audio CD recordings. From 2000 to 2015, Kate was the soprano soloist at Kingsway Lambton United Church in Toronto. She has been teaching singing for over forty years and now lives in Hamilton and enjoying semi-retirement with her husband Ed and trying to keep up with four grandchildren.

ALTO LEADS

RIANNA ROBINSON grew up in Nova Scotia on the East Coast, in a small town called Windsor with her grandparents. Windsor is known for its giant pumpkins and for being the birthplace of hockey. As a little girl, singing did not come naturally. Her grandmother said, "the poor little thing can't carry a tune." But when she was determined to get a role in the elementary school musical, things changed. Determination won her a part. At fourteen, her first opera debut was as the First Spirit in The Magic Flute by Mozart, and she never looked back. She knew then she wanted to study music and become a professional singer, and the place to make her dreams come true she felt was Toronto and the Faculty of Music. She has been determined to reach for goals and casting opportunities. Her most surprising audition was for a dancing part. The director wanted to see if she could dance, so everyone around the table started beating a rhythm, and she danced and was awarded the role. A recent grad with a Master's in Voice Performance, Rianna's plan now is to start auditioning for young artist programs and hopefully perform live again.
Let Us Know You're Interested
---
Enter your info into the form below and we'd be happy to get you connected!