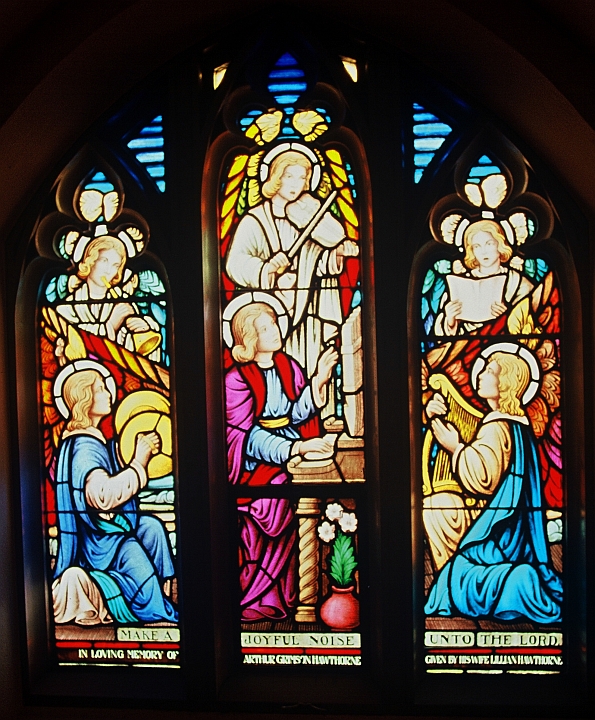 The Hawthorne Window
circa 1978
Psalm 100
Artist: Robert McCausland Ltd.
Theme: St. Cecilia
Far Left Panel
Middle Panel
Right Panel
In Stained Glass
MAKE A
JOYFUL NOISE
UNTO THE LORD
IN LOVING MEMORY OF
ARTHUR GRIMSON HAWTHORNE
GIVEN BY HIS WIFE LILIAN HAWTHORNE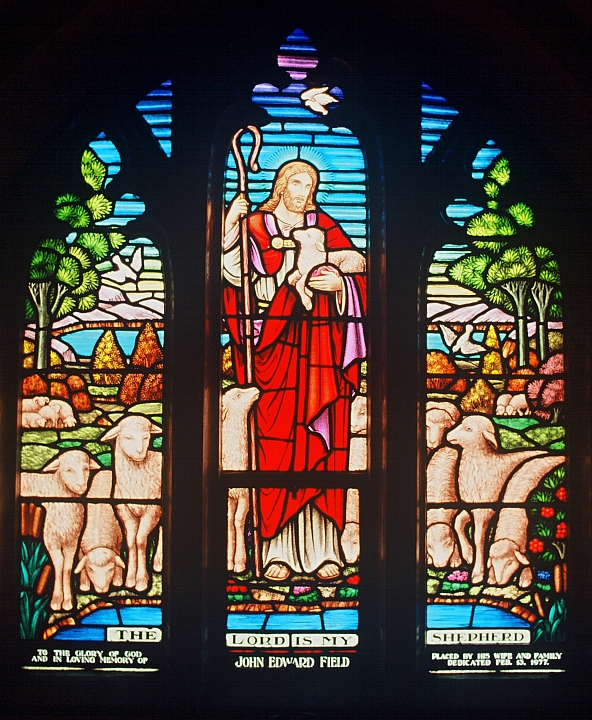 The Field Window
February 13, 1977
Psalm 23
Artist: Robert McCausland Ltd.
Theme: The Lord is My Shepherd
Far Left Panel
Middle Panel
Right Panel
In Stained Glass
THE
LORD IS MY
SHEPHERD
TO THE GLORY OF GOD AND IN LOVING MEMORY OF
JOHN EDWARD FIELD
PLACED BY HIS WIFE AND FAMILY DEDICATED FEB. 13, 1977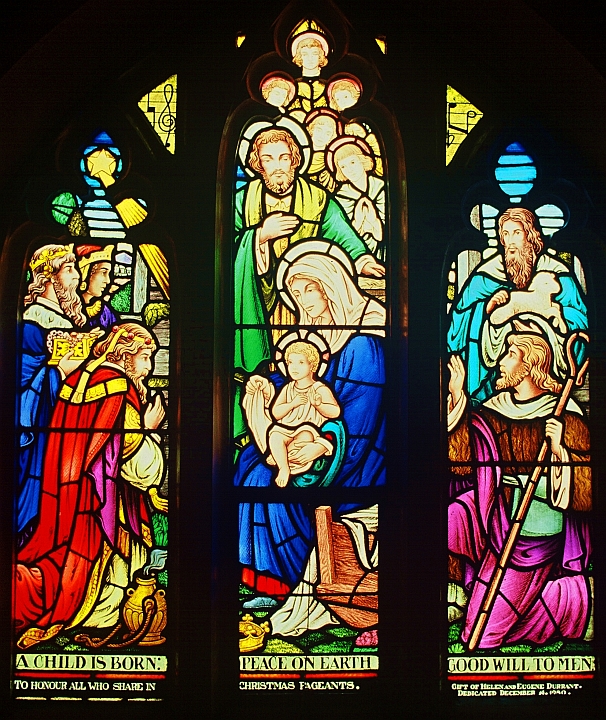 The Durrant Window
December 14, 1980
Luke 2: 1–20
Artist: Robert McCausland Ltd.
Theme: A Child is born. Peace on Earth, Good Will to Men.
Far Left Panel
Middle Panel
Right Panel
In Stained Glass
A CHILD IS BORN:
PEACE ON EARTH
GOOD WILL TO MEN
TO HONOUR ALL WHO SHARE IN
CHRISTMAS PAGEANTS.
GIFT OF HELEN AND EUGENE DURRANT. DEDICATED DECEMBER 14, 1980.
Notes:
Notes: The aim of this gift was to recognize the participants and those giving leadership in the annual pageants since 1937. For the dedication service by the Reverend Harry M. Denning, special invitations were sent to all the Directors who had produced the pageants over forty-four years. The Directors were honoured at the dedication of the window and at a luncheon which followed at the Weston Golf Club. Also recognized were the former ministers of the Church, Dr. Lockhart and Dr. Huband.
At the request of Organist, John Clarke, Helen Durrant had written the music for "The Kings Come Riding" which was a part of the pageant for many years. She had been Program Chairman of the Etobicoke Concert Association from 1952 to 1967. Eugene Durrant was an Elder with twenty-five years of service. He was Assistant Superintendent of Secondary Schools for the Etobicoke Board of Education after being Principal of Etobicoke Collegiate from 1950 to 1963.